TUTORIAL
NFT Subscription; 120+ public chain integration classification; Tokenview has been upgraded again!
How to improve the user experience and engagement of 【Tokenview.io explorer】 has always been the direction of our team's efforts. In order to conform to the user's use habits, we also optimized the details of the explorer, such as Tokenview single currency explorer and the main website have launched the night mode, improve the user's visual experience, users can choose according to their preferences.In previous articles, we summarized some of the general features of the Tokenview explorer, and today we continue to explore the hidden functions of Tokenview!
Page search optimization
Constantly optimizing the user experience is our goal. In order to create a suitable for the public, useful, personalized search model, we have aggregate optimization of page search. Blockchain explorer data is all-encompassing, and users often submit search keywords including addresses, blocks, transactions, smart contracts, ENS, and so on. As the only blockchain explorer that supports 120+ public chain, how to enable users to quickly retrieve and locate the required information has always been the direction of our thinking.
To address this, Tokenview again provides a reference case. Whether you input address/block/transaction/smart contract /ENS, Tokenview will screen and integrate multidimensional optimal search results and display the page concisely and clearly, allowing users to capture transaction dynamics at a glance. In addition, when a certain address or smart contract is queried, the relevant historical dynamics will also be filtered from the supported 120+ public chain information and displayed.
Tokenview also has a powerful library of data labels, classifying and labeling project parties, entities, risk/hacker addresses, etc., which not only facilitates user retrieval, but also helps users track the behavior of addresses on the chain. In addition, Tokenview also allows users to set personal label addresses.

Public chain integration classification
Support 120+ public chain is our professional. If WEB2 users cannot live without Google and Baidu, then WEB3 natives must live without blockchain explorer. There are various types of blockchain explorer functions on the market, and multi-chain has become a competitive field for all explorers.
In addition to the battle between the old and new public chains in the current blockchain field, Ethereum Layer2 scalable solution is also developing rapidly. In addition to Cardano, Tokenview launched Layer2 public chains such as Metis and Gnosis in the first half of 2022.
So far, Tokenview covers BTC categories, ETH categories TRX, Layer2 public chain, Cosmos Ecology, zk-SNARKs, Privacy Chain and 120+ public chain.
In order to further facilitate users to search and view, we will integrate 120+ public chain classification, specially set up a public chain classification section, directory type label at a glance.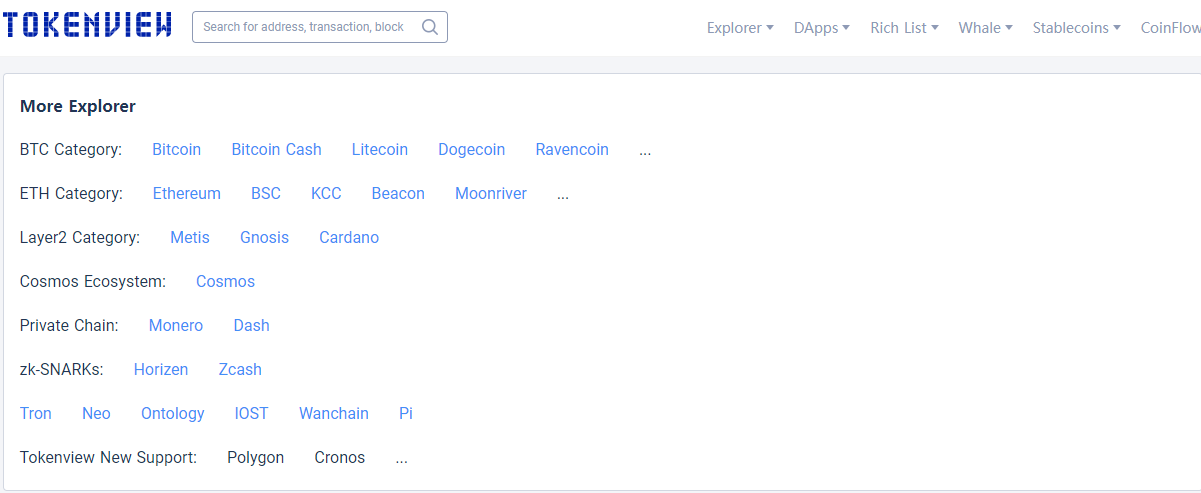 Preview! Polygon, Cronos and others are coming as promised!
NFT Tracking
Excellence is our attitude. It is our constant practice to provide diverse, accurate and stable blockchain data services.
In the crypto market in the past two years, [NFT] is undoubtedly the hottest and most topical product. The wave has also spread from the crypto to fashion, luxury, film/TV, sports, music, consumer products, and more. In order to create a new consumer experience, these well-known brands are playing with [NFT marketing]. With numerous marketing cases unlocked through NFT, publishing NFT has become the first choice for enterprises to build the image of WEB3.
Despite the current downturn in the NFT market, data show that the number of NFT related market users and new products is growing. The number of wallets with NFT is not slowing down, increasing by about 80,000 per week. Based on this industry consensus, Tokenview continues to launch data services related to NFT.
As early as September 1, 2022, Tokenview launched the NFT API data service. In addition to providing on-chain transaction data, NFT Metadata, NFT market data, NFT ranking statistics, etc., the NFT API can also help WEB3 users simplify all product construction by creating NFT wallets, NFT markets, NFT games, NFT galleries, and more without having to build their own nodes.On December 5, Tokenview opened up a new, independent data service segment based on the NFT API, and launched the NFT transaction tracking data service.
NFT Webhook information is sent in real time in JSON format, enabling real-time cross-chain notification of NFT activities. Users can use APIKey one-click configuration to obtain various dynamic reminders of NFT minting/trading/buying/selling/burning, etc.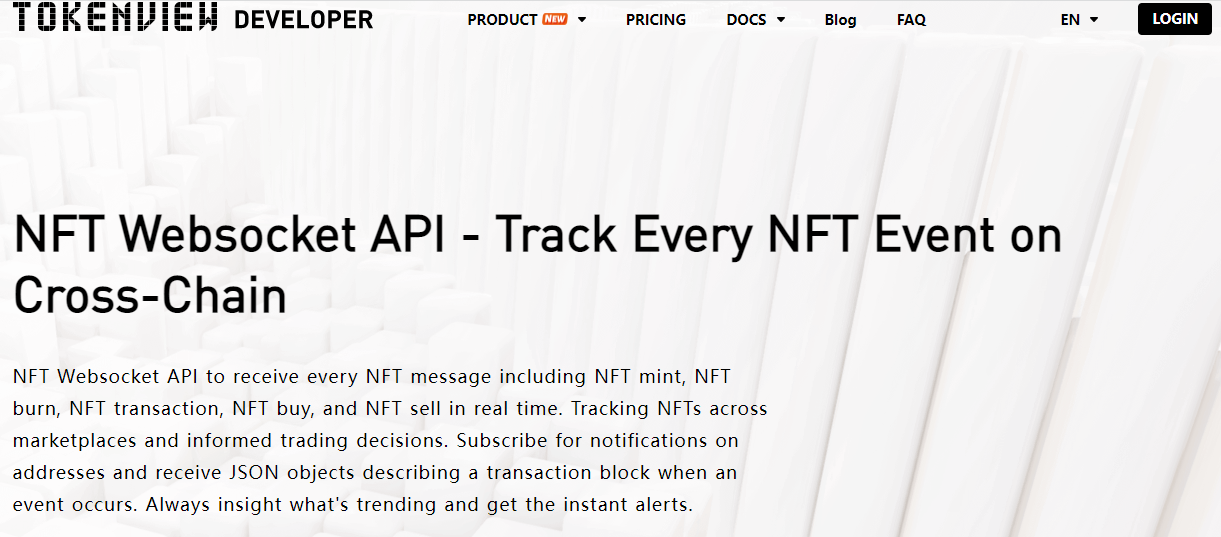 See the Tokenview API documentation for more:services.tokenview.io
Professional, practical and attitudinal data services about blockchain are in Tokenview!
About Tokenview Blockchain APIs & Data Service Platform:
Tokenview blockchain APIs & data service platform
contained 120+ blockchains has powerful endpoints that simplify complex blockchain data into single API calls. Code for all supported blockchains using unified API calls. From here to easily get transaction, address, gas, contract, token, NFT, logs and any information from chain. And Yes you can also send tx to chain. One-click configuration with APIKey helps developers to Use, to Create, to Build.